Posts » Romantic things to do for your beloved online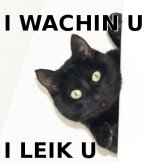 Brownie and Bozo just posted a set of tips for long-distance lovers on MakeSweet. They pick out some of the best things to do online if you want to sweep your beloved off their feet. I'm not sure I'm convinced by them all, but I like the idea of personalized lolcats. I'll have to try that out on Mrs. Bell. Apparently you can also make comics online, although I hope you can come up with better dialog than Brownie and Bozo did.
Also, I could have done without seeing you guys photoshopped into a "Tarzan and his Mate" photo...